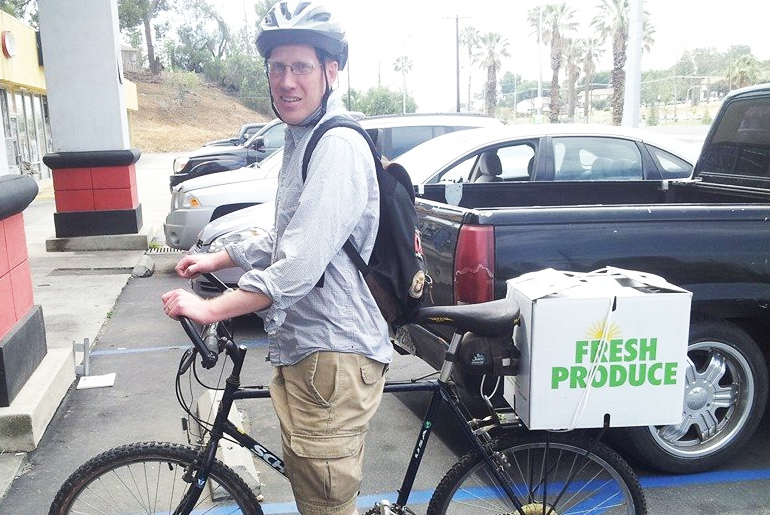 A taste of home.
Hand-packed fresh from the fields, our crop box brings you the best of Riverside's local food, and saves you an early morning trip to the farmers' market. We negotiate fairly with our network of farmers while still bringing you a great deal. We all grow together.
How does it work?
Once a month, we notify you with a crop box reminder, by email unless you have another preference. On pick-up day you arrive at the pick-up spot and sign off for your box filled with fresh produce! To control costs and help the environment, we reuse our sturdy waxed produce boxes and ask that you return your empty box(es) when you come back next pick-up day. Pick-up days are the last Sunday of the month unless otherwise announced.
We also deliver within Riverside city limits for an additional $7.50. If you would like delivery, or you need to have someone else pick up your box for you, let us know within 36 hours of the pickup date so we can get things ready for you.
If for some reason you are unable to pick up your box, we can store it at an alternate location until 7PM that evening. If we have not heard from you by that time we consider your box forfeited. BUT the next morning we take forfeited boxes to Operation Safehouse, a local nonprofit that helps at risk teens and families. The donation is tax-deductible. We are happy to provide you with a receipt.
Unfortunately we cannot provide refunds on boxes as we are a volunteer organization.
What's inside?
Inside the box you will find a variety of seasonal fruits and vegetables purchased the day before from local farms in and around Riverside. Can't stand cilantro or had a traumatic childhood experience with broccoli? Not a problem! At the pick-up site we have produce to swap out things you don't like for things you do. Please note that the produce is very fresh, may have some dirt on them and will require rinsing.
Also included online is our monthly zine featuring important news bites and cooking ideas for your box. Check out our Pinterest for other recipe ideas and share your cooking adventures with us on Facebook and Instagram and tag us with #rivfoodcoop !