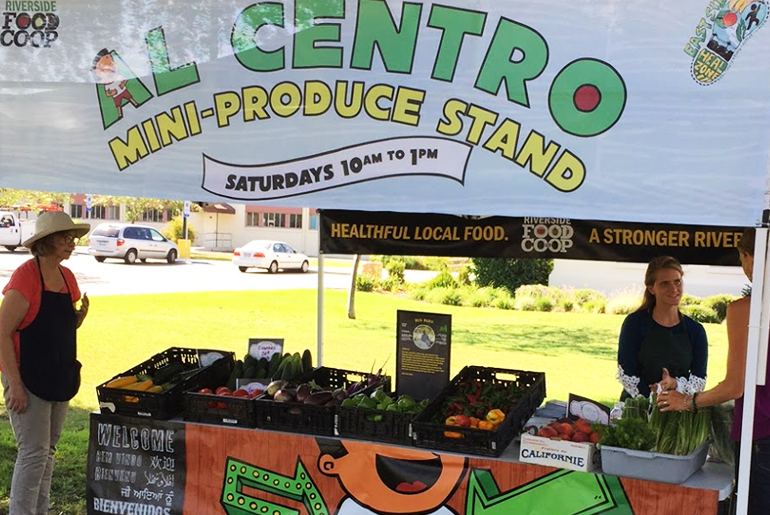 An open exchange.
Al Centro mini-Produce Stand is an outdoor fruit and vegetable market we set up Saturdays mornings at Bobby Bonds Park starting August 2015 to Spring 2016. We then moved the market to Stratton Center at Bordwell Park where it continues through autumn on Thursdays, 4PM to 6:30PM, and returned to Bobby Bonds in spring 2017. These are challenged Eastside neighborhoods, majority Latino, and deemed "food deserts," or areas of limited access to fresh produce according to the USDA's Economic Research Service (ERS).
In March 2015 the Eastside HEAL Zone (Healthy Eating Active Living) Phase I awarded the Riverside Food Co-op a $40K grant to introduce healthful local food access to the Eastside. We conceived the project as a chance to tap the local farm network we had already developed for our monthly Member Crop Box. Because the HEAL Zone views health as "whole communities" and "whole human beings" including economics, built environment and human relationships, the Riverside Food Co-op took up this grant as a native challenge.
Our original requirement was 150 pounds per week of six culturally appropriate varieties of fruits and vegetables. As the program has evolved we've expanded our selection to a dozen or more conventional and specialized seasonal offerings. We accept EBT and all major credit/debit cards. We hired seven rotating part-time employees.
Long reach. Wide reach. Deep reach.
Weekly administration of Al Centro demanded a small scale food hub at Fox Farm for delivery, aggregation, storage and packing. A local Kiva Zip lending campaign made this refrigeration project possible, with active support from the RFC and Riverside Food Systems Alliance (RFSA). Genuine outreach into the community inspired us to hire a graduate of the Eastside Resident Leadership Academy, who brings a connection and insight into the neighborhood. Our partnership with civic leaders, academics, nutritionists, educators, gardening experts and farmers continues to grow a mutually supporting outreach ecology.
In May 2016 the Riverside Community Health Foundation renewed our contract to to administer our programs for HEAL Zone Phase III for three years and $120K.